The Globetrotting Gourmet
Discovering delicious dishes throughout Vienna.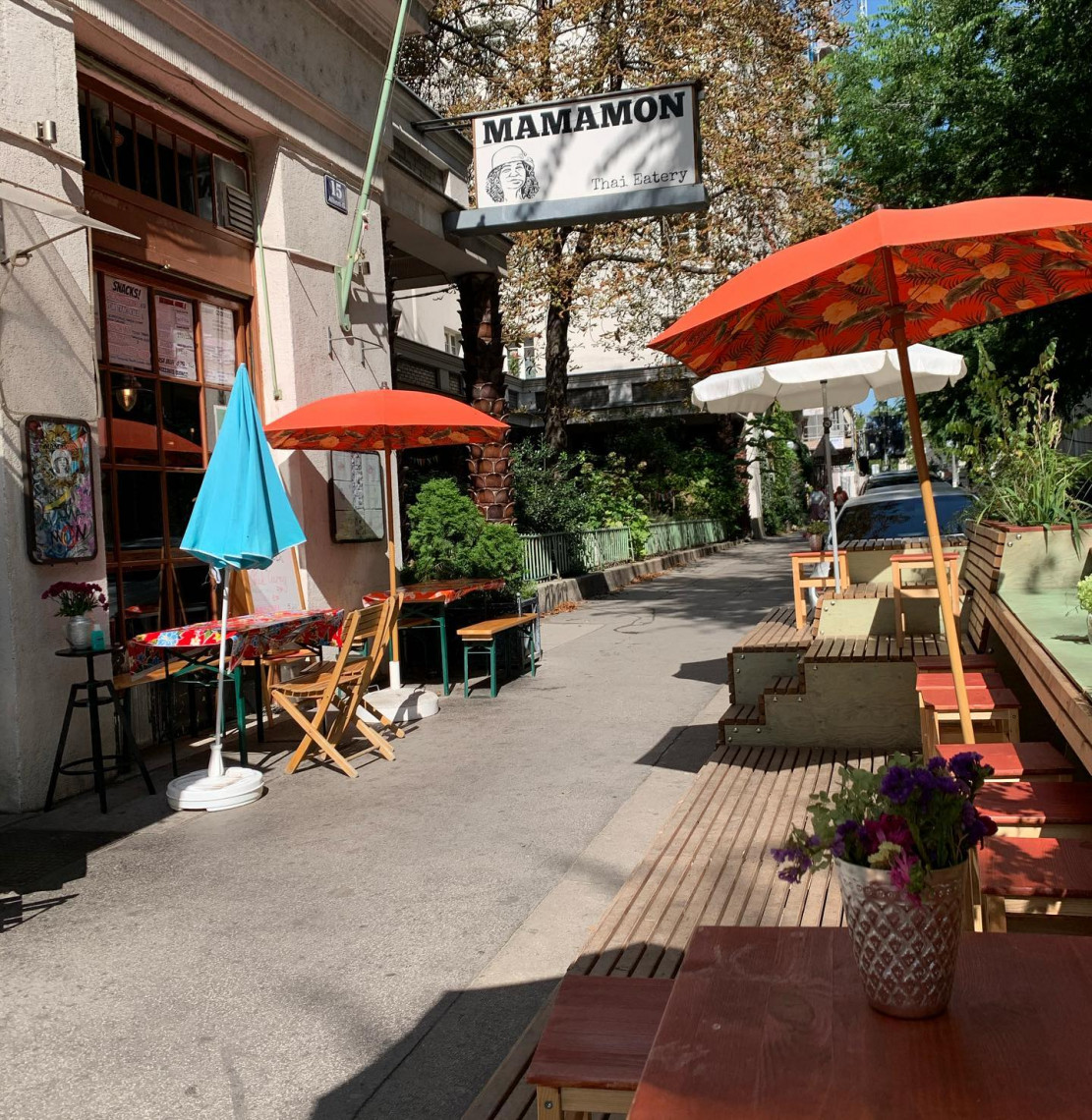 Mamamon is a small hole-in-the-wall restaurant with authentic Thai dishes in the 8th district. There's limited seating in the restaurant, but the outdoor patio and open kitchen layout welcomes anyone like family.
Opening the evening with an appetizer is an obvious choice. Skip the larb salad, it's not worth your time. Instead, try the fish cakes, pork belly, or my personal favorite: the som tum. The fish cakes were sensational- the golden, crispy exterior gave way to a flavorful filling that practically melts in your mouth. Coupled with a sweet chilli sauce, the dish happily lingers on your taste buds throughout the meal. The crispy pork belly was also a standout dish – the meat was tender, the crackling skin adding a satisfying crunch with every bite. The som tum, a spicy green papaya salad, was perfectly balanced by the heat of the chilis and the sweetness of the tomatoes. Ordered plain, or with shrimp, either cannot be missed.
On the drink menu, order a Thai iced tea or rose lemonade. The iced tea was perfectly sweet and creamy, and the rose lemonade was refreshing and slightly floral. Both drinks were a great complement to the spicy food.
For entrees, the fan favorite pad thai, with chicken, tofu, or shrimp was expertly prepared and had a balance of sweet, sour, and savory flavors. The stir-fried rice noodles are perfectly cooked, and the addition of peanuts, bean sprouts, and green onions add a nice crunch and freshness to the dish. Don't forget to squeeze a wedge of lime over the top. Khao Soi, a warm and comforting bowl of spicy coconut milk broth was the best dish of the night. The soup envelopes your protein of choice, chicken or tofu, and is packed with herbs and spices like lemongrass, ginger, and chili paste, and the egg noodles add a nice chewy texture to the dish. Topped with fresh red onion, pickled vegetables, and cilantro, it's the perfect meal for a cold day.
Overall, I was blown away by the quality of the food at Mamamon. Despite its unassuming appearance, this small restaurant serves up some of the most delicious Thai cuisine I've ever tasted outside of Bangkok. The service was also top-notch – the staff was friendly and attentive, and the atmosphere was cozy and inviting. I will definitely be returning to Mamamon in the future. Please note that Mamamon is cash only.
-Alex Kennedy